eWeather HD 3.5 adds unique Apple Watch weather forecast app, tide predictions, High and low tide times
The World's only iPhone, iPad and Apple Watch app specifically designed to provide all the info you need in one place: the most accurate hourly weather forecast, detailed 10-day weather forecast, long-range weather forecast up to 12 months ahead, tide predictions, earthquakes, sea surface temperatures, buoy data, weather alerts, animated weather maps and many other features!
eWeather HD version 3.5 designed with lots of passion & love!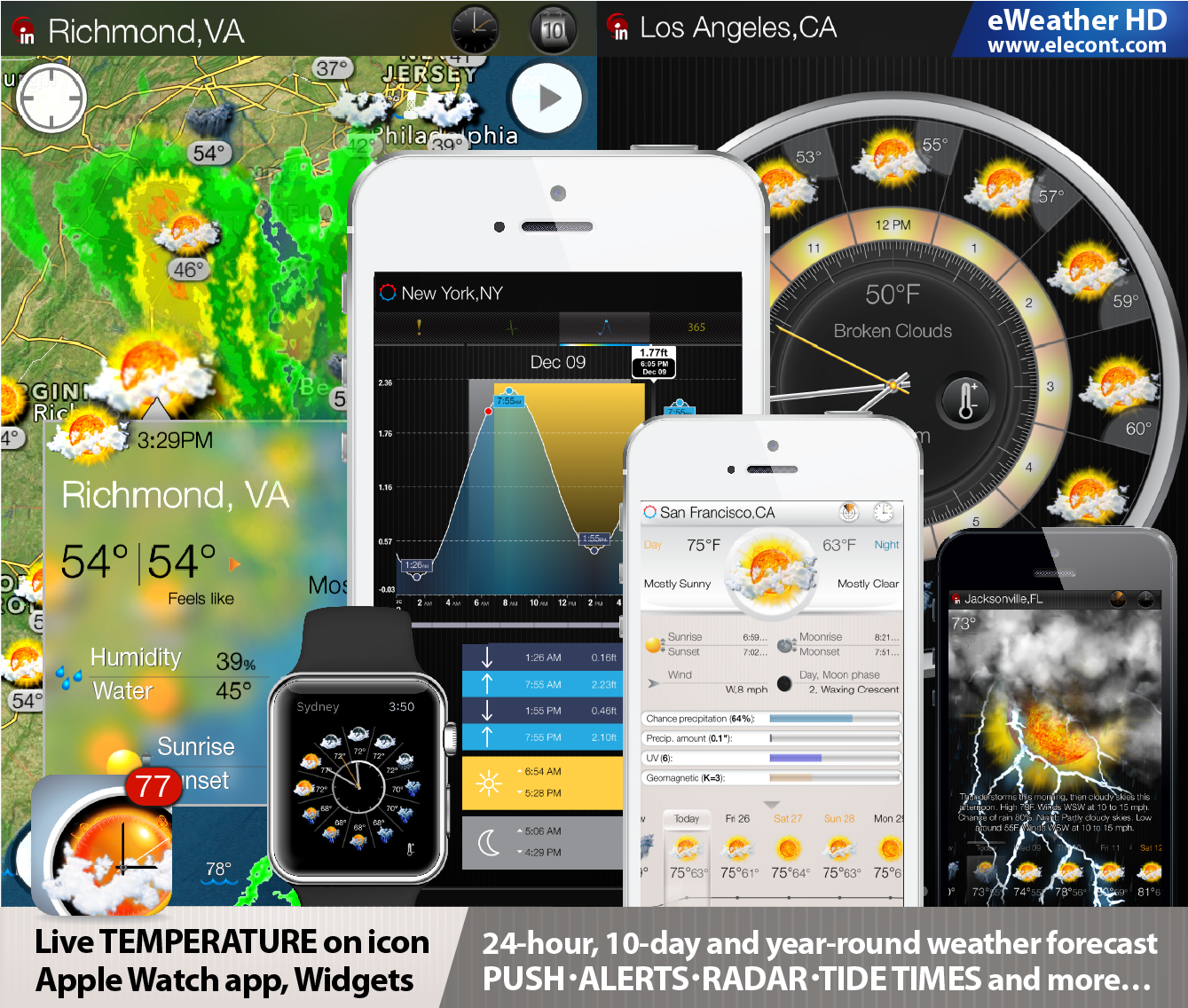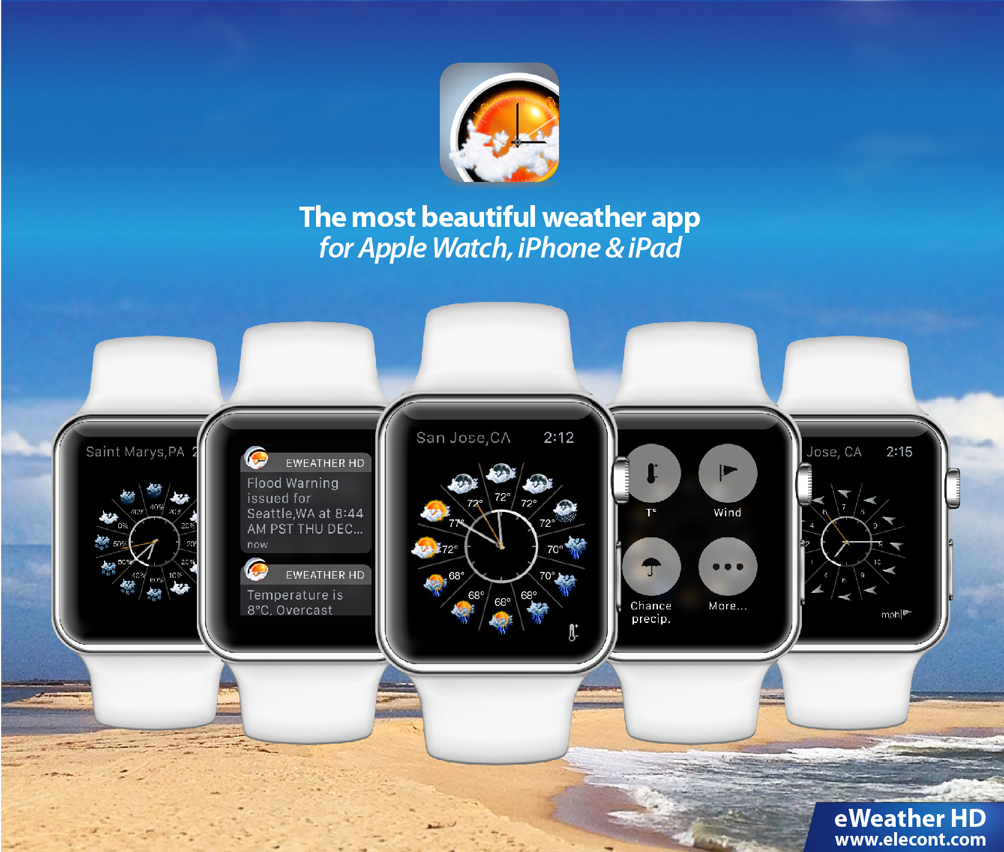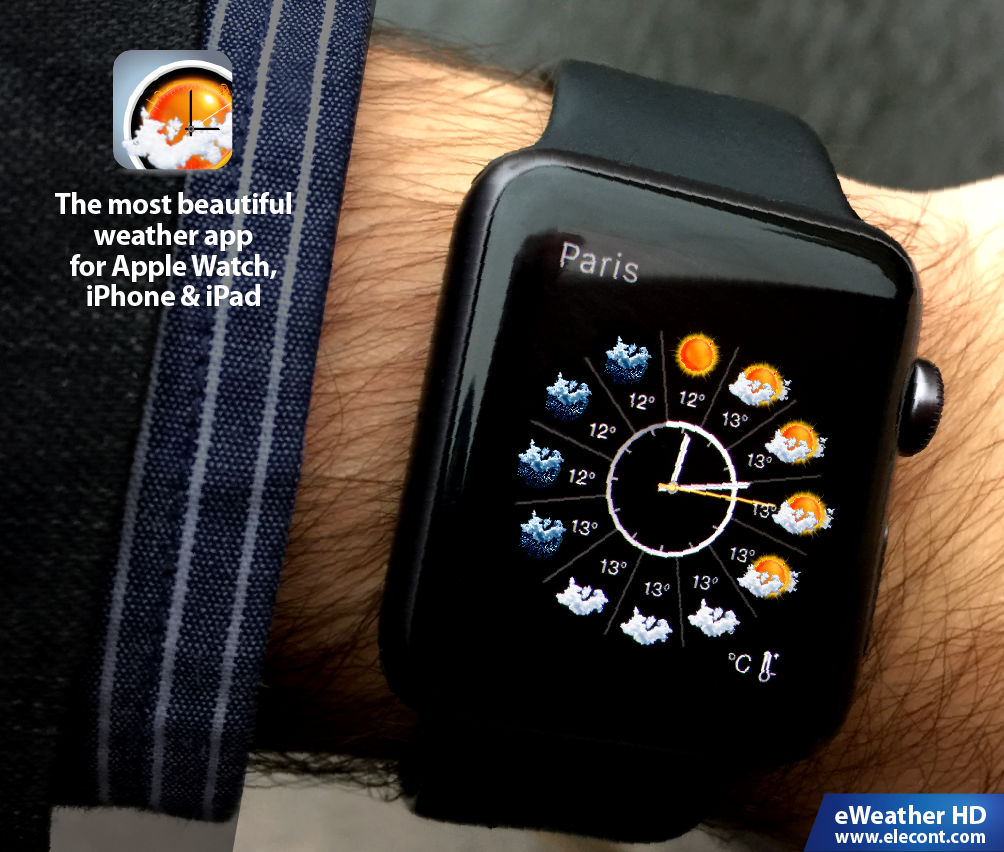 Dear friends, you have long been asking for Apple Watch app - we have done that!
eWeather HD now on Apple Watch
eWeather HD introduces unique Apple Watch app that provides:
* hour-by-hour weather forecast, temperature of air, sky conditions, "feels like" temperatures
* UV index,
* chance of precipitations,
* wind speed and direction,
* geomagnetic activity index,
* humidity
* dew point.
* Severe weather alerts and notifications about changes in weather conditions are available as notifications on your Apple Watch.
* Apple Watch app displays weather for active city (in your iPhone app) or you may set a specific location for Apple Watch
Global tide predictions
eWeather HD provides tidal predictions for more than 12,000 stations worldwide.
* Tidal data is available in 10-day weather forecast mode and as a new layer on weather map
* The app provides interactive tide graph,
solunar chart
* high tide, low tide levels and times
* Sun/Moon times
* You may override tide station for your favorite locations
Better support for iOS 9
Resolves issues with Google+
Fixes issue that causes crash in Earthquake section
Fixes issue with 365-day climate data for some locations
Performance
* Significantly improves performance for Today screen extensions
New languages
* Norwegian language
* Improved Danish translation
We hope you enjoy this new version!
eWeather HD tide predictions for iPhone and iPad details
Supports over 12000 tidal stations in all regions of the world:
183 tide stations Africa
1155 Asia
171 Atlantic Islands
815 Australia, Austral-Asia
205 Caribbean Islands
34 Cen.America Caribbean
34 Cen.America Pacific
508 Europe
127 Indian Ocean
57 Mediterranean
43 Middle East
4292 North America,Atlantic
727 North America,Gulf
2777 North America,Pacific
196 Northern seas
341 Pacific Islands
155 S.America,Atlantic
52 S.America,Caribbean
142 S.America,Pacific
520 South East Asia
Tide stations across over 150 countries (only some coastal counties listed below)
6062 tide stations in USA
1716 Canada
802 Japan
422 Australia
245 New Zealand
277 Philippines
108 Brazil
153 Russia
58 Kuril Islands
177 Indonesia
128 China
116 Chile
112 United Kingdom
80 Mexico
69 Greenland
98 France
74 Germany
54 Bahamas
47 India
47 Vietnam
52 Netherlands
34 Italy
33 Korea
22 Portugal
... also the list includes almost all coastal countries around the world.
Knowledge of tides is an important element of boating safety.
Knowledge of tidal information is essential for navigating a shallow waterway or placing your boat at anchor.
The success or failure of a voyage can depend on the height or depth of a tide, while knowledge of current information can save fuel and make passage into a river or channel safer.
eWeather HD goes further than the tables provided by the NOAA. eWeather HD automatically accounts for correction factors and provides instant information without requesting that you account for time lags, daylight savings conventions, or height differences between the reference stations and the locations you are seeking.
Since the tidal information that is published in this app is not subjected to the use of the voyage, please do not use for navigation.

The World's only iPhone, iPad and Apple Watch weather app specifically designed to provide all the info you need in one place. It's designed to look beautiful and work beautifully. eWeather HD provides a lot of features, but not at the loss of elegant display simplicity. Get accurate and reliable 24-hour and 10-day weather forecast utilizing unique multi-provide system, nationwide radar images, severe weather alerts, earthquakes, storm/typhoon tracks combined with data from NOAA buoys, sea surface temperatures, historical weather data and climate averages, tide times and tide charts and much more…
Key features:
▸ 10-day, hour-by-hour local and international weather forecasts
▸ 2015/16 Long-Range Weather Forecast and climate data
▸ Instant severe weather alerts using PUSH
▸ High-resolution doppler weather radar
▸ Sun/Moon times, Moon phase & day
▸ Sun/Moon eclipse times
▸ All data from NOAA buoys
▸ Sea surface temperatures
▸ Earthquakes
▸ Global storm/typhoon/cyclone tracker
▸ Air pressure graph (H/W sensor)
▸ Geomagnetic activity
▸ (New!) Tide predictions with graphs, high and low tide times
▸ Weather migraine detector
▸ Animated weather maps
▸ Widgets: Weekly forecast and animated "Weather Clock"
▸ Live temperature icon on Home screen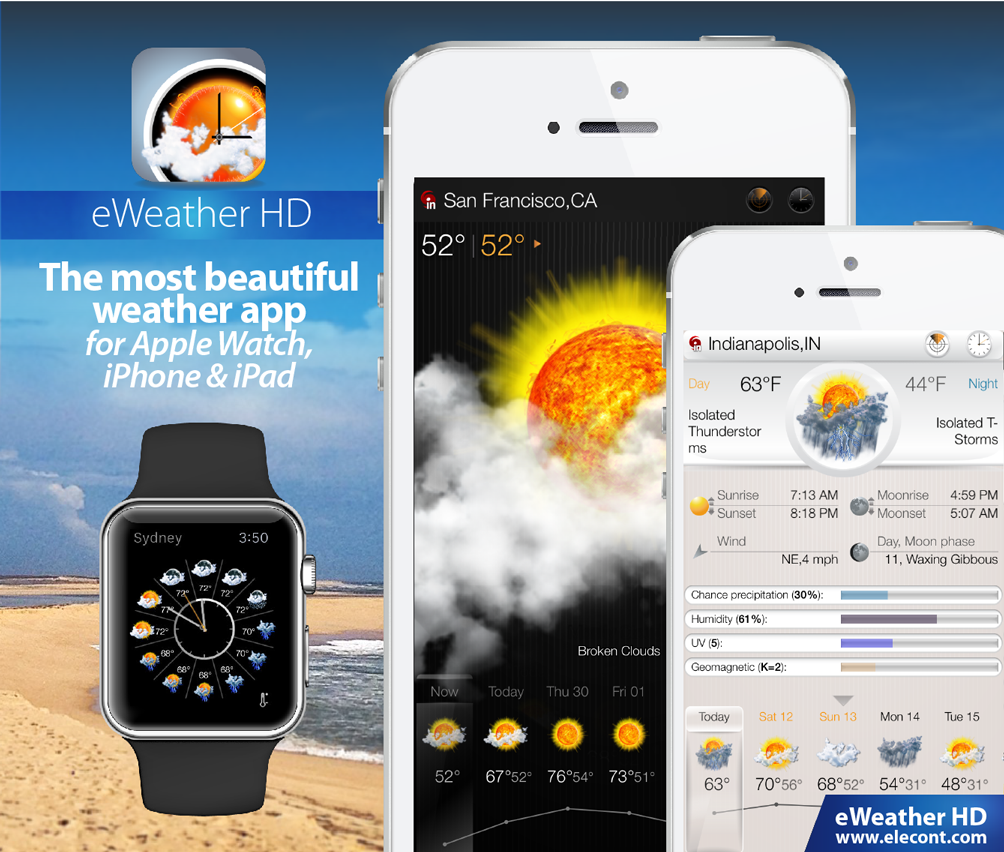 √ Can minimize the harm to your property and protect your personal safety
√ Can alert you to potentially life threatening weather (hail, tornado, hurricane, flood, thunderstorm and etc.) via audible push notifications directly to your device even if your not currently using the app and your device is asleep and locked
√ Weather Clock interface can tell you at a glance exactly when it will rain (or snow)
√ Provides up-to-minute weather forecast for the next 24 hours
√ Provides 10-day weather forecast with detailed weather data
√ Provides weather & sea temperatures for 12 months
√ Includes two beautiful weather widgets: hourly and weekly forecasts.
√ Uses two weather providers (located in the US and EU) to bring you precise hourly forecasts as well as a full 10-day forecast. Multi-provider system lets you choose the most accurate weather data for your location
√ Helps you to plan your outdoor activities with the amazing accuracy. Just take a look at the Weather Clock and you'll be secured against any weather surprises
√ Includes interactive weather maps: current conditions and future weather, hi-def weather radar, storm tracks and affected areas, severe-weather alerts, sea surface temperatures, NOAA buoys, Satellite cloud cover imagery, Earthquakes
√ Displays live current temperature right on your Home Screen
√ Alerts about weather that triggers Migraine Headaches. Now you always know the cause of headaches or migraines if it is linked with changes in the air pressure
√ Customer rating 5.0/5.0
Overview of the detailed weather features:
• Ten-day weather forecast including
- Day/night conditions
- Wind speed and direction
- Probability of precipitation (rain or snow)
- Rainfall, snowfall amounts
- Sunrise, sunset, moonrise, moonset, moon day & phase
- Ultraviolet index, geomagnetic activity
• Hourly weather forecast for the next 24 hours
- Temperature and feels like temperature
- Humidity, dew point
- Probability of precipitation (rain or snow)
- Rainfall and snowfall amounts
- Wind speed, direction
- Ultraviolet index and geomagnetic activity
• Current weather conditions
- Temperature and feels like temperature
- Humidity and dew point
- Pressure of air
- Realtime barometric data from air pressure sensor
- Wind speed and direction
- Temperature of water
• Global storm tracks and projected paths
• High-resolution weather radar for US and Japan (rain+snow)
• Near-realtime data from over 700 NOAA buoys, beach and global sea surface temperature (wind, wave, temperature details and etc.)
• Local and worldwide earthquakes
• PUSH notifications for severe weather alerts
• Severe weather alerts for US and Europe
• Sharing via Instagram, Twitter, Facebook, G+ or mail