eWeather HD 3.7 - Beautiful All-in-one Weather App
New eWeather HD 3.7 provides exhaustive set of features.They're beautifully designed, simple to use, functional and user friendly. It all works in harmony, seamlessly and beautifully.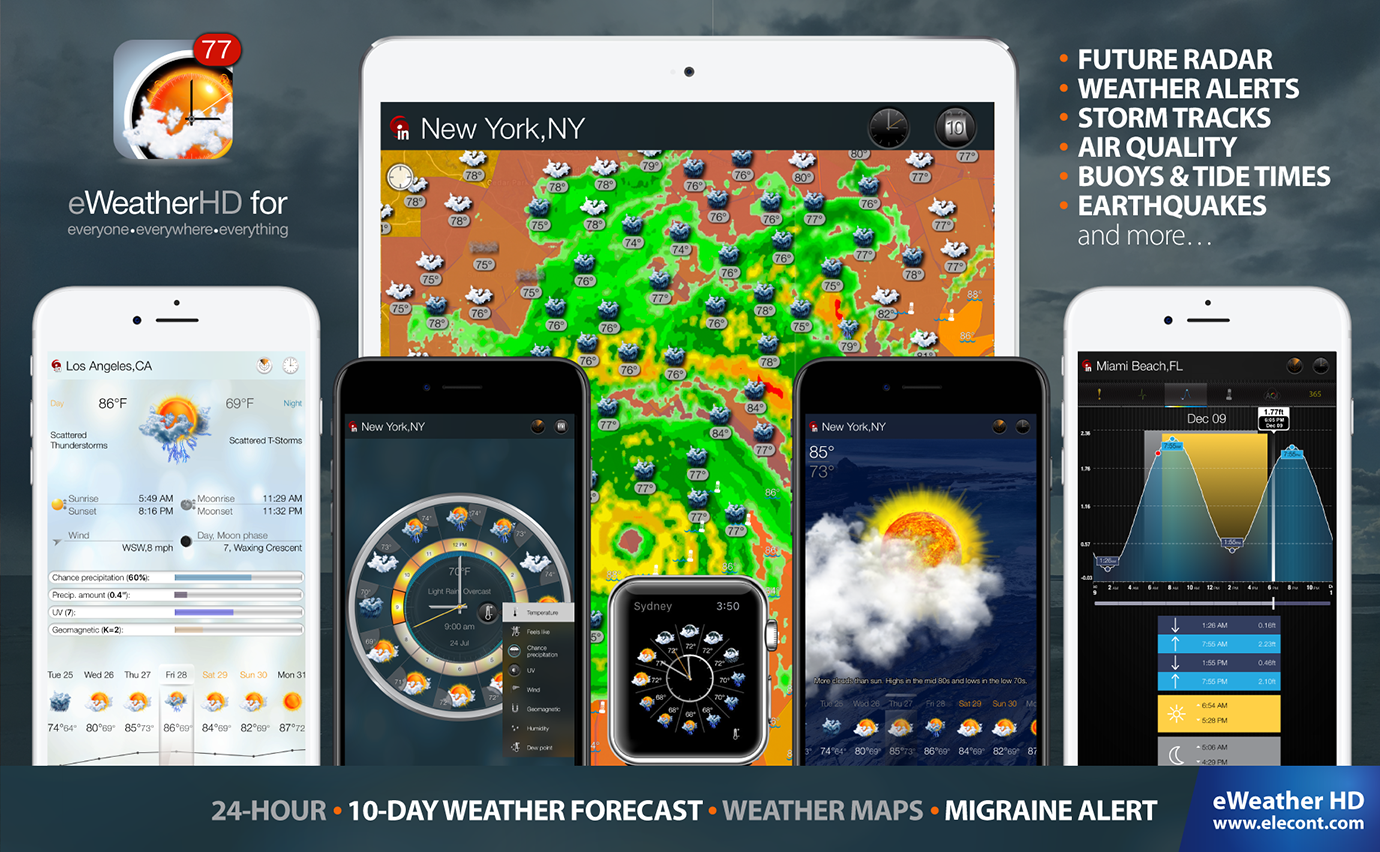 In addition to over 100 changes, enhancements, and improvements, eWeather HD 3.7 introduces PUSH health alerts (Migraine alert), severe weather alerts for Europe, Predictive weather radar and more.
New Look and feel
* Four new visual themes with Night mode
* Redesigned icons for iOS app, Apple Watch app and Weather Maps
Predictive weather Radar
* eWeather HD provides high-definition predictive (up to 60 minutes) weather radar for United States and Japan
* Radar provides past, actual and future weather
* New app provides better control for radar and space animations
Air Quality
* Air Quality data is available for United States, some major European cities
* eWeather HD reports realtime Air Quality and forecast
* Air Quality data includes AQI and various air pollution parameters including PM2.5, Ozone and other values (depends on station)
Widgets
* New eWeather HD provides three types of widgets: current conditions, weekly forecast and hour-by-hour weather
* You may combine widgets on your lock screen and use "More"/"Less" to choose between compact and detailed modes
* New 3D-touch widget for iPhone devices
Major improvements in weather alerts!
New eWeather HD 3.7 provides instant notifications (PUSH) for weather alerts in U.S. and Europe!
* In addition to United States new eWeather HD provides notifications about severe weather events for cities in: Austria, France, Germany, Italy, Spain, Switzerland, United Kingdom, Czechia, Poland, Portugal, Slovakia, Belgium, Bosnia-Herzegovina, Bulgaria, Croatia, Cyprus, Denmark, Estonia, Finland, Greece,Hungary, Iceland, Ireland, Latvia, Lithuania,Luxembourg, Macedonia, Malta, Montenegro, Netherlands, Norway, Russia, Romania, Serbia, Slovenia, Sweden
* You can use location services to get alerts for your current location
* You can use multiple locations for severe weather alerts: up to 5 different places
* You can choose the type of alerts you want to receive!
* eWeather HD provides more than 120 different types of notifications for severe weather events
* eWeather HD 3.7 provides location-based temperature on home screen badge and on lock screen
* Rich PUSH notifications for iOS10/iOS11. Now You can get details for Weather, Alerts or Air pressure notifications right from Notification Center
* PUSH notifications for changes in weather conditions now includes Emoji icons for sky conditions
Health (Migraine) alerts
* eWeather HD provides PUSH notifications about changes in atmospheric pressure.
* You can set up notification for sharp rises or drops in air pressure.
Weather Clock
* New beautiful diagrams for UV-Index and Chance of precipitation can be added to the clock face and combined with other readings.
* Diagrams available in Widgets.
Weather Maps
* New Air Quality layer. Get realtime AQI measured by local or international stations.
* Tap on Air Quality station to get detailed information about air pollution
* New animated weather maps for 24-hour weather forecast or 10-day weather forecast. Available for local and international locations.
* Get wind speed and direction right on the map. Play animated wind forecast for the next 24 hours or 10-days.
3D-touch
* Use force-touch to get 3D-touch widget
* Use force-touch gesture to open 10-day weather forecast, hour-by-hour forecast, radar or weather alerts
Spotlight
* Now all your cities, saved in list of favorites are accessible directly from the Spotlight
Background updates
* eWeather HD refreshes weather data in background (when the app is closed) using smart algorithms so you'll get updated data when you open the app. It works even for "Follow me" locations.
NDBC Buoys
* The app provides more than 10 different parameters from the closest sea/ocean buoy
* Data from over 750 buoys scattered throughout North America, Alaska, Hawaii, Canada, Europe, and the Caribbean. Most buoys provide information about current wave heights, wave periods, wind speed, wind direction, air temperature, water temperature, atmospheric pressure, pressure tendency, dew point.
Tide predictions
* New eWeather provides up-to-minute tide predictions for over 16000 places around the world
Performance improvements and bug fixes
* New weather maps works a few time faster than previous release
* New app uses less disk space
* New app works faster on older devices
* Detailed list of changes and bugfixes available here
eWeather HD 3.7 includes updated Apple Watch App
* New Apple Watch app works a few times faster than previous release
* Provides hour-by-hour weather forecast, temperature of air, sky conditions, "feels like" temperatures
* UV index,
* chance of precipitations,
* wind speed and direction,
* geomagnetic activity index,
* humidity
* dew point
* All kind of weather data (mentioned above) can be used in Apple Watch complications
* Detailed descriptions for PUSH Weather Alerts
* PUSH Health alerts (Migraine) notifications
* PUSH notifications about changes in weather conditions
* Apple Watch app can display local weather (using location services) or weather for specific location (2,000,000 locations available)
* Apple Watch app reports hour-by-hour weather or weather forecast for the next 9 hours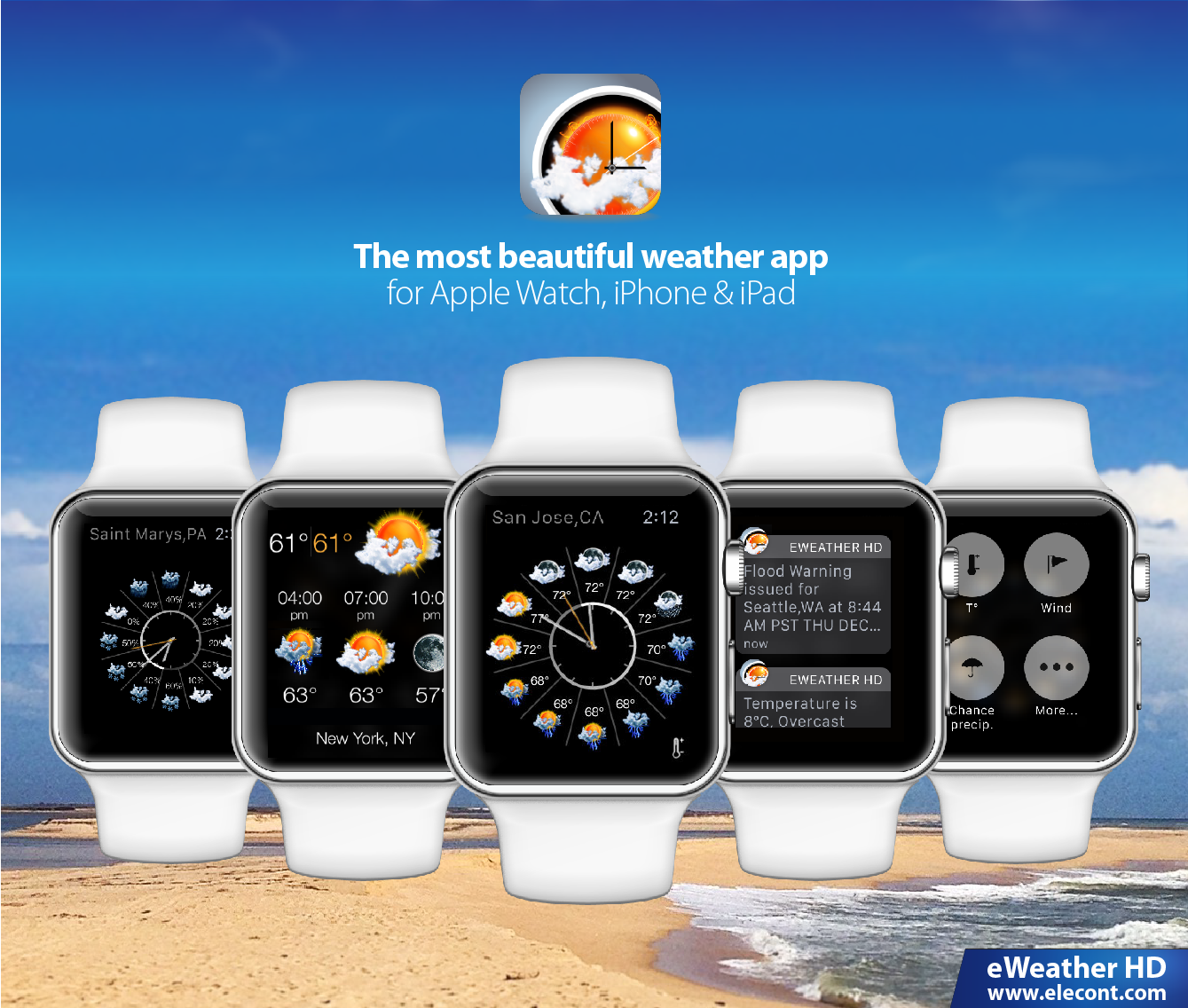 Download & read more:
new eWeather HD 3.7 - Beautiful All-in-one weather app for iPhone, iPad and Apple Watch

The World's only iPhone, iPad and Apple Watch weather app specifically designed to provide all the info you need in one place. It's designed to look beautiful and work beautifully. eWeather HD provides a lot of features, but not at the loss of elegant display simplicity. Get accurate and reliable 24-hour and 10-day weather forecast utilizing unique multi-provide system, nationwide radar images, severe weather alerts, earthquakes, storm/typhoon tracks combined with data from NOAA buoys, sea surface temperatures, historical weather data and climate averages, tide times and tide charts and much more…
Key features:
▸ 10-day and hour-by-hour local / international weather forecasts
▸ Global storm/typhoon/cyclone tracker
▸ 2016/17 Long-Range Weather Forecast and climate data
▸ Severe weather alerts using PUSH for your location (U.S. and Europe)
▸ Weather on lock screen and temperature on home screen bade for your location
▸ High-resolution, predictive doppler weather radar (U.S. and Japan)
▸ Satellite cloud cover animations: Europe, North America and Asia
▸ Sun/Moon times, Moon phase & day
▸ Sun/Moon eclipse times
▸ Air quality: current values and forecasts
▸ All data from NOAA buoys
▸ Sea surface temperatures
▸ Earthquakes
▸ Air pressure graph (H/W sensor)
▸ Air pressure notifications using PUSH (Migraine alert)
▸ Barometric pressure diagrams with migraine detector
▸ Geomagnetic activity
▸ Tide predictions with graphs, high and low tide times
▸ Multilayered animated weather maps (8 layers)
▸ Live temperature icon on Home screen
▸ Widgets (Now, Hourly and Daily weather forecasts)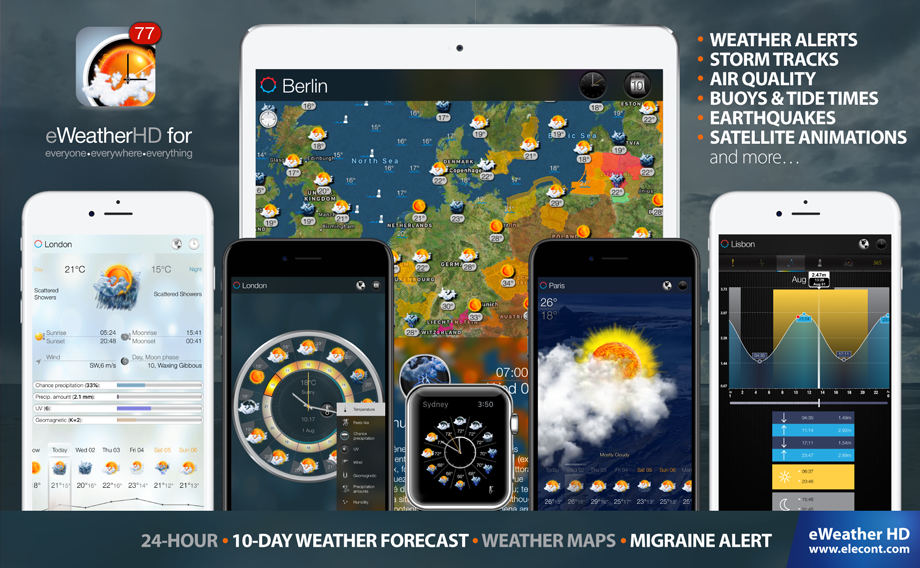 √ Can minimize the harm to your property and protect your personal safety

√ Can alert you to potentially life threatening weather (hail, tornado, hurricane, flood, thunderstorm and etc.) via audible push notifications directly to your device even if your not currently using the app and your device is asleep and locked

√ Weather Clock interface can tell you at a glance exactly when it will rain (or snow)

√ Provides up-to-minute weather forecast for the next 24 hours

√ Provides 10-day weather forecast with detailed weather data

√ Provides weather & sea temperatures for 12 months

√ Includes two beautiful weather widgets: hourly and weekly forecasts.

√ Uses two weather providers (located in the US and EU) to bring you precise hourly forecasts as well as a full 10-day forecast. Multi-provider system lets you choose the most accurate weather data for your location

√ Helps you to plan your outdoor activities with the amazing accuracy. Just take a look at the Weather Clock and you'll be secured against any weather surprises

√ Includes interactive weather maps: current conditions and future weather, hi-def weather radar, storm tracks and affected areas, severe-weather alerts, sea surface temperatures, NOAA buoys, Satellite cloud cover imagery, Earthquakes

√ Displays live current temperature right on your Home Screen

√ Alerts about weather that triggers Migraine Headaches. Now you always know the cause of headaches or migraines if it is linked with changes in the air pressure

√ Customer rating 5.0/5.0

Overview of the detailed weather features:

• Ten-day weather forecast including
- Day/night conditions
- Wind speed and direction
- Probability of precipitation (rain or snow)
- Rainfall, snowfall amounts
- Sunrise, sunset, moonrise, moonset, moon day & phase
- Ultraviolet index, geomagnetic activity
• Hourly weather forecast for the next 24 hours
- Temperature and feels like temperature
- Humidity, dew point
- Probability of precipitation (rain or snow)
- Rainfall and snowfall amounts
- Wind speed, direction
- Ultraviolet index and geomagnetic activity
• Current weather conditions
- Temperature and feels like temperature
- Humidity and dew point
- Pressure of air
- Realtime barometric data from air pressure sensor
- Wind speed and direction
- Temperature of water
• Global storm tracks and projected paths
• High-resolution weather radar for US and Japan (rain+snow)
• Near-realtime data from over 700 NOAA buoys, beach and global sea surface temperature (wind, wave, temperature details and etc.)
• Local and worldwide earthquakes
• PUSH Severe weather alerts for US and Europe
• Sharing via Instagram, Twitter, Facebook, G+ or mail




Download & read more: