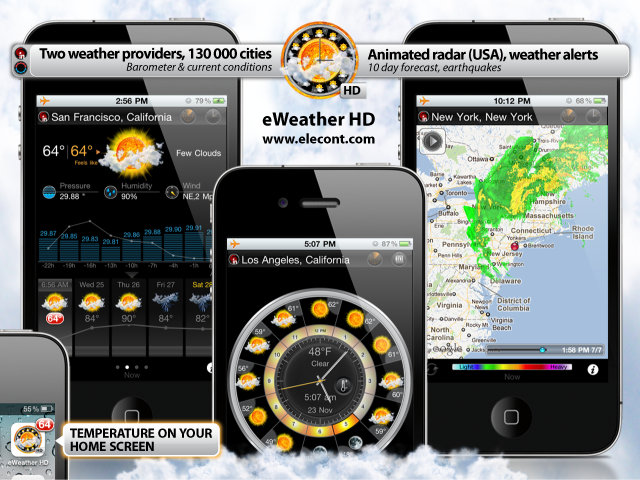 eWeather HD for iPhone/iPad
10-day accurate weather forecast, hourly forecast, hi-def radar, maps, alerts, water, satellite, earthquakes
eWeather HD is a visually stunning, feature-rich weather app for your iPhone, iPad or iPod touch. Get accurate weather conditions and ten-day forecasts, high-resolution animated radar and satellite, severe weather maps and push alerts, temperature on your home screen, sea surface temperatures, multi-layered weather maps and more!
eWeather HD is an elegant, easy-to-use and powerful forecast application. It combines ten day and hourly forecasts from two weather sources with a beautiful radar images and unique "weather wheel" interface. eWeather HD uses the latest technology to show the current temperature right on the home screen and notification center.
eWeather HD will help you to plan your outdoor activities with the amazing accuracy. Just take a look at the Weather Clock and you'll be informed when you should take an umbrella! eWeather HD also includes interactive weather maps, earthquake map and detailed severe weather maps.
eWeather HD is the first app which uses two sources (located in the U.S. and E.U.) to bring you precise hourly forecasts as well as a full ten day forecast. Multi-provider system lets you choose the most accurate weather data for your location.
eWeather HD uses latest technology to show you the current temperature (or feels like temperature) of any location right on your iPhone/iPad/iPod touch Home Screen! In addition to the temperature badge, you can set up the app to notify you of any changes in the weather as they happen, right in the homescreen and Notification Center.
Barometer - a diagram showing the pressure changes during the past 24 hours. Now you always know the cause of headaches or migraines if it is linked with changes in the air pressure. When a dangerous pressure change has been detected the diagram will change the color.
Another great feature is a weather alert system which includes push notifications and notification center support. This makes it even easier to keep tabs on what's going on around you.
* Ad-free. No limitations. No subscription fees. No hidden costs. Frequent updates.
Key Features:
• Two Reliable, Accurate Data Sources based in the U.S. and E.U
• Full-text, long-term ten-day weather forecast
• Precise 24-hourly forecasts
• Severe weather areas on the map
• Realtime severe weather alerts
• NOAA buoys / Marine weather
• Live temperature / "Feels like" temperature on your home screen
• Realtime Informing about current weather in Notification Center
• Animated radar and satellite images (NOAA, HiRes, U.S. only)
• Worldwide earthquakes provided by USGS and EMSC
• Global sea surface temperatures
• Space Weather Predictions: Geomagnetic activity forecast
• World Time & World Weather
• Interactive weather maps ( radar, satellite, severe weather areas, current weather, forecast, water surface temperature and earthquakes)
• "Follow me" (weather based on your physical location)
• Severe weather warnings for 14 European countries
Features include:
• 130,000 locations worldwide
• Unique clock-like interface
• Current weather conditions including humidity, wind and pressure
• Sunrise and Sunset times
• Moon day, Moon phase, Moon set and Moon rise times
• Feels like temperature
• Hourly precipitation forecasts
• Rainfall amounts (Foreca.com only)
• Barometric pressure and the temperature trend diagram displays the last 24 hours
• Hourly UV forecast
• Alternative way of displaying negative temperatures on home screen
• Locations can be added by GPS, Zip Code, or by browsing the location list
• Space Weather Predictions: Geomagnetic activity forecast (NOAA)
• Global sea surface temperatures
Radar specifications:
• High-definition, animated, rain/snow radar from the NWS for the entire U.S. (except Alaska) and Canadian cities near US/Canada Border)
• NEXRAD, N0R, base reflectivity, filtered data
• Delayed 4-12 minutes due to nature of data transmission
• Optimized for WiFi, 3G or even EDGE connections
• Play, pause animations at any zoom level
• Zoom in and out, drag and scroll
• Multiple map styles - terrain, satellite or standard
Satellite:
• 4-km, IR, animated images
• Data provided by GOES 13, 14, 15
• Continental U.S.
Sea surface:
• Data provided by buoys and satellites (NOAA)
Severe weather:
• Full coverage for the entire U.S.
• Push notifications
• Detailed descriptions
• Available for 14 European countries: Austria, Belgium, Denmark, Germany, France, Ireland, Italy, Luxembourg, Netherlands, Norway, Russia, Spain, Switzerland and UK
• Vector-based maps and descriptions
Specifications:
• 130,000+ locations
• Localized in 37 languages
• Designed for iPhone 5, iPhone 4S, 4, 3GS and 3G, new iPad, iPad mini, iPad 2 and iPad, iPod Touch 5th Gen
• A low demand on your iPhone/iPad/iPod resources
• Retina Display support (HD graphics)
• Languages: English, Arabic, Armenian, Azerbaijani, Byelorussian, Chinese, Czech, Danish, Dutch, Finnish, French, Georgian, German, Greek, Hebrew, Hungarian, Italian, Japanese, Kazakh, Korean, Latvian, Lithuanian, Persian, Polish, Portuguese, Russian, Slovak, Spanish, Swedish, Turkish, Ukrainian
eWeather HD - screenshots (English)
eWeather HD online user's manual (English)
eWeather HD online user's manual (Russian)